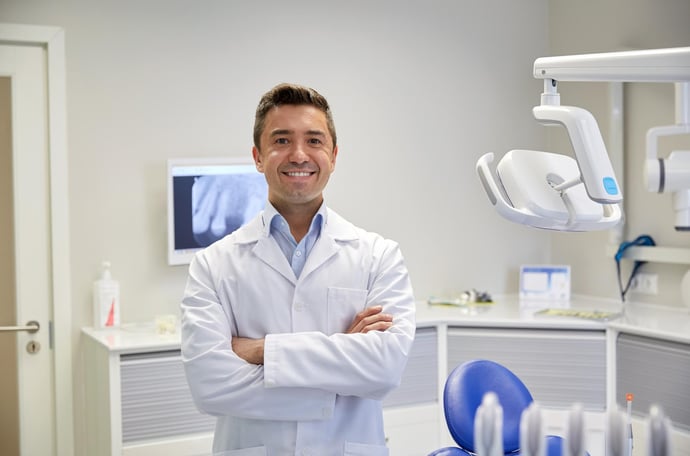 At Heartland Dental, we're proud to help dental professionals all over the country advance their careers and maximize their potential in a positive, growth-oriented organizational culture. Today, though, we thought we'd talk about something that's obvious to us, but may not be as obvious to others: why be a dentist in the first place?
A Rewarding Career for a Lifelong Passion
A career in the dental field – whether as a dentist, office professional, or any other position in the dental industry – is one of the most rewarding lines of work anyone can embark on. Dentistry is all about helping people smile, which gives patients the confidence they need to believe in themselves. As a dental professional, you can rest assured every night knowing that your work is changing lives for the better – and that's something to be proud of.

Beyond this, the dental industry offers almost unlimited opportunities for professional advancement. Dentistry is a vital medical field that helps with a basic necessity of life, so you can be sure that dental professionals will always be in demand. Dentistry lets you work with families in a pleasant, enjoyable office setting, all while making a generous salary and steadily growing your career and skill set over time. Truly, dentistry is one of the most secure and smart growth fields anyone can go into.

When you work in a Heartland Dental supported office, you'll have all these benefits and more. Heartland Dental provides comprehensive support to dental practices and individual members of the Heartland Dental family, ensuring that both your supported practice and you personally will continually grow and thrive. We offer a vast professional network, extensive opportunities for training and continuing education, and a warm working environment with healthy work-life balance to help you thrive both personally and professionally.
Join the Nation's #1 Dental Support Organization
If you're ready to embark on a rewarding career in the dental industry or want to take your own career to the next level, Heartland Dental is here to help. Feel free to call us at (866) 929-0040 or reach out to us at our contact page with any questions, learn more about what we do, or see what supported dental jobs we have to offer today. We can't wait to hear from you, and we hope to see you in a Heartland Dental office someday soon!

Sources:
http://www.nydailynews.com/news/national/no-1-best-job-america-dentist-article-1.2943032
http://money.usnews.com/careers/best-jobs/rankings