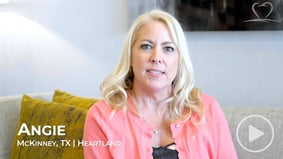 Many professionals in the field have harbored reservations about joining Dental Support Organizations (DSOs), believing that these corporate entities prioritize profit margins over patient care. One such professional, Angie, a treatment coordinator in Texas, shares her journey of overcoming corporate stigmas to feeling like she hit the "job lottery."
You had a long and successful career in private practices before joining a DSO. Can you share your initial thoughts about corporate dentistry?
Angie: Before I moved to Texas, I had worked in private practices for most of my career, so I was skeptical about corporate dentistry. The prevailing notion was that corporate practices prioritized numbers and quotas, often at the expense of genuine patient care.
What led you to consider a position at Heartland Dental?
Angie: I stumbled upon a job posting for a treatment coordinator position, and I was hesitant at first. My entire career I had heard negative narratives about corporate dentistry, which made me wonder if it was the right move for me.
Despite your reservations, you decided to take an interview. What influenced your decision?
Angie: I figured I had only had two other jobs in my career, so getting some interview experience would be a good thing!
Could you share the moment when you realized Heartland Dental was the place for you?
Angie: After the interview, I called my husband and said, "You won't believe it, but this is the place for me!" I could see it was a place where people were genuinely dedicated to changing lives one smile at a time, fostering a strong team dynamic, and promoting camaraderie among team members. The stereotypes I had in my mind were quickly shattered and I knew this was the place for me.
You've been a treatment coordinator for two years. Are you happy with your decision?
Angie: I have not regretted my decision in the two years I have been here at all. My husband jokes with me, saying that not everyone can hit the job lottery like I did. My advice to anyone considering working at a DSO-supported dental office would be to not let those corporate stigmas hold you back!
Click here to discover how Heartland Dental is providing a platform for dental professionals to make a positive impact on patients' lives and thrive in their careers.