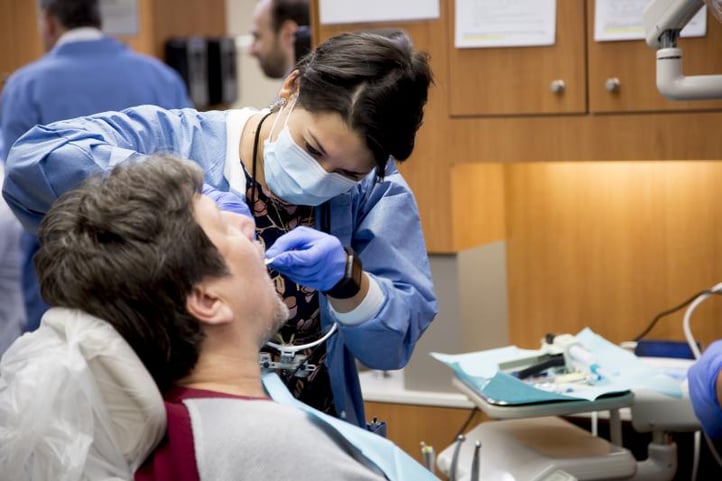 A career in dentistry is fulfilling and rewarding, but there are more paths to success than just becoming a dentist. A dental office has a variety of important jobs and roles, and one of the most important is that of dental hygienist. Dental hygienists are a critical part of the treatment process, helping to keep patients healthy by cleaning teeth, examining the mouth for dental decay and disease, and educating patients on oral hygiene and preventive maintenance.
Steps to Becoming a Dental Hygienist
The educational and professional requirements of being a dental hygienist takes a significant amount of study and work. At a minimum, a dental hygienist must complete an Associate's Degree in dental hygiene. This is a two-year program offered by most community colleges and other post-secondary institutes where you'll learn about the health and function of the mouth, take classes on dentistry and dental hygiene, and get hands-on experience in a clinical setting.
While an Associate's Degree is the only necessary qualification, many dental hygienists choose to get more advanced degrees as well. While it takes more work and more years in school, getting a higher degree can give you more leverage to advance your career down the road. Getting a bachelor's or master's degree means you may also pursue a career in education or research, and some public health positions require more advanced study.
In addition to degrees, you'll need to get licensed by the state you operate in. To obtain the license, you'll have to sit for the National Board Dental Hygiene Examination, which will test your knowledge of the concepts, tools, and techniques of dental hygiene, as well as a similar regional or state clinical board examination. Once you earn your license, you're qualified to practice as a dental hygienist!
Contact Your Dental Career Experts
Working as a dental hygienist is challenging, enjoyable, and fulfilling - after all, you're helping people smile better all day long! If you're interested in pursuing a dental hygienist position or another career in dentistry, we can help. Feel free to reach out to us at our contact page to find out how we can help you advance your career in dentistry, or if you're ready to dive in, apply for a job at one of our supported practices using our online jobs portal!