A deep commitment to education is a core tenant of the Heartland Dental support model. Heartland Dental assists supported practices in providing this educational opportunity to Supported Doctors. The Doctor Mastery Program (DMP) takes our commitment to educational support even further. This unprecedented educational program is designed to allow Supported Doctors to focus on building their leadership skills while learning about the business of dentistry.

Open to all Heartland Dental Supported Doctors, this comprehensive 5-year program opportunity consists of clinical and business training, facilitated by leading clinicians and industry experts, that enables Supported Doctors at every level to become the definitive leader in their area and grow their practice by leaps and bounds.
The DMP helps participating Supported Doctors earn a Fellow or a Master's of the Academy of General Dentistry


Supported Doctors who choose to participate in the DMP gain education and real-life experience by completing a Foundation Track, along with optional interest-driven tracks that include:

IV Sedation
Surgical & Implant
Advanced Restorative & Occlusion
Advanced Orthopedics & Orthodontics

In addition to clinical training opportunities, Supported Doctors will receive access to training in management, mentorship, and leadership, establishing a pathway to true professional development throughout their career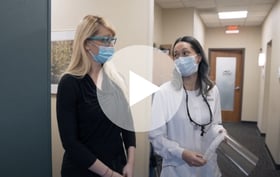 "I thought the Doctor Mastery Program was
wonderful... You really can tailor it to what
you enjoy about dentistry the most."
- Dr. Elizabeth Birr

Heartland Dental Supported Doctor
All participating doctors who complete the program receive up to $250,000 in financial rewards for enhancing their clinical and leadership skills ($200k for completing the program, and another $50k for becoming a mentor). This financial reward comes on top of their annual compensation and other bonuses to which they are already entitled through the supported practice.

The DMP is just one of the amazing education opportunities available to Supported Doctors. From the Year One Doctor Track and our hand-crafted education tracks to 200+ hours of CE courses, multiple leadership training and development opportunities, professional mentorship opportunities, and beyond, your freedom to learn, grow, and master any skill you choose is virtually limitless. That's our commitment of support – and our promise – to you.
Want to explore how Heartland Dental can
support your professional growth?
Give us a call at (855) 452-7600 or request more information today.