Dentistry is one of the most exciting spaces within healthcare. The industry is evolving rapidly, and practitioners need to work hard to stay informed of changes across technology, patient expectations of their dental experience, how practices communicate with patients and team members, and more.
With change comes opportunity, especially for hygienists. When you look at what we can do today and what is trending for the future, the opportunities for hygienists to maximize their clinical and personal skills will also continue to grow.
Let's take a peek at a few trends impacting the dental industry.
---

Dental technology will continue to change the game - leading to improved diagnoses and shortened treatment times.
Technology is the single most important factor that will influence the patient experience, from the first touchpoint through treatment.
For example, digital scanners have drastically improved quality of care and case acceptance. Patients are blown away by the technology that helps them see the "why" behind their treatment and preview a digital before and after of treatment. The proof is in the numbers. The intraoral scanner integration by Heartland Dental supported offices has had a significant impact in the remake rate for restorations, resulting in an average 2 percent drop-in remake rates for supported Doctors. Further, hygiene has become more productive for supported offices because the scanners help connect occlusal disease and periodontal disease for patients.
Artificial Intelligence (AI) is also being used more broadly and can help with improving preventative care for patients. It can act as a "second set of eyes" to ensure nothing is missed during an initial patient consultation, which can reinforce confidence when it comes to treating patients.
AI can also identify if a patient is due for radiographs or has unmet treatment needs, and the technology can inform practitioners of preexisting medical alerts. It can also take the guesswork out of monitoring decay and determine when it should be treated, ensuring that patients receive the care and consideration they need.
Not every technology is fit for purpose, and it's important that a thoughtful approach is taken for implementing technologies to meet patient needs. Our priority at Heartland Dental is to provide supported Doctors and hygienists with the tools to be cutting edge, not bleeding edge. We want to make sure any technology that is rolled out for supported Doctors to use improves process, improves chair-time efficiency, and facilitates high-quality patient care experiences.
Hygienists are in high demand.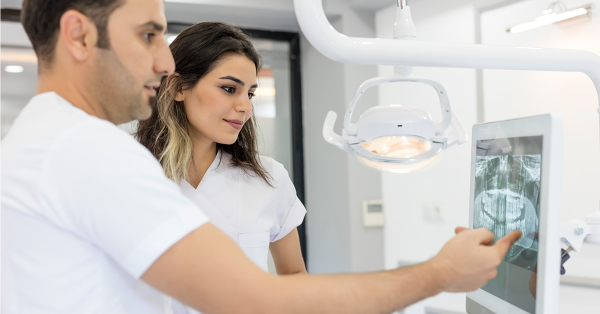 In a labor market still recovering from COVID-19, attracting and retaining a skilled workforce is more difficult than ever, and this challenge is expected to continue. Quite simply, we need more dental hygienists to meet the growing demand for dental care. Given the pervasive shortage of dental professionals and an abundance of dental offices hiring, this is an empowering position to be in for dental hygienists.
Whether a hygienist is just starting their career, or they have been practicing for years, there are several things to consider – compensation, benefits, work schedule, career growth. Another decision hygienists need to make is what type of practice is the right fit– private, small group, or an office supported by a Dental Support Organization (DSO).
Heartland Dental is a DSO founded by a dentist, for dentists. Hygienists are respected as clinical practitioners, and we recognize the critical role they play in supporting a dental office's success. Further, we know that hygienists, like doctors, need opportunities and resources to continue to develop their skills and competencies while they are practicing. Our supported hygiene providers are empowered to pursue mastery and continuous development through world-class continuing education opportunities, communications training and professional development courses that help grow their leadership and clinical skills, helping to ensure they are well-versed in the latest technologies and preventive dental care.
DSOs will continue to be a part of the dental industry's future.
The span of administrative services provided by Dental Support Organizations (DSOs) will continue to grow as doctors, hygienists, and the industry realize the benefits and value add. Since Heartland Dental was established in 1997, the perception of DSOs has evolved quite a bit, and continues to shift, with the growth of DSOs surpassing projections. Today, DSOs are 25% of total US market and growing at 15% a year! It is anticipated within the next 10 years, DSOs will account for 50% of the dental industry.
When you think about how the external environment creates even more challenges for practitioners, it isn't a surprise to see the advantages in having the support from Heartland Dental to help combat inflation and supply chain issues while also providing opportunities for career pathing for supported hygienists, benefits, continuing education and comradery.
Dentistry is an exciting industry. Every day there is something new to learn and someone thinking of new ways to provide the best support to hygienists considering new aspects of care for patients. Massive change is on the horizon but how we react to it will be our discretion. If we stay open minded and embrace the change, the sky is the limit of what we can achieve!